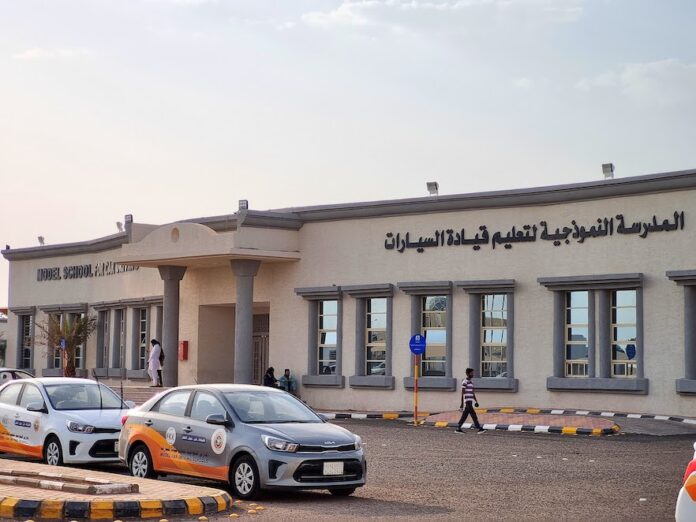 Model Driving School is established in 2007 in the Al-Aqoul neighbourhood of the radiant city of Madinah, Model Driving School has been a beacon of driving education for over a decade.
Model Driving School
One of the standout features of Model Driving School is its bilingual teaching staff. The school recognizes the importance of clear communication in effective learning, especially when it comes to learning how to drive.
The languages spoken by the teaching staff at Model Driving School include:
Arabic
English
Hindi
Punjabi
Urdu
This multilingual approach allows the school to cater to a diverse student body and ensures that language is never a barrier to learning.
Courses Offered at Model Driving School
Model Driving School offers a variety of courses tailored to meet the diverse needs of its students. Whether you're a beginner looking to drive your own vehicle or a professional seeking to operate commercial vehicles, Model Driving School has a course for you. Here's a detailed look at the courses offered:
Private Driving License Course: This course is designed for individuals who wish to drive their own vehicles within the Kingdom. It covers all the essential skills and knowledge needed to operate a private vehicle safely and confidently.
General Driving License Course: This course is aimed at those who wish to drive commercial vehicles such as taxis or buses. It provides comprehensive training on the specific skills and regulations associated with operating commercial vehicles.
Heavy Driving License Course: This course is for those who wish to operate heavy vehicles like trucks and forklifts. It provides in-depth training on the unique challenges and safety considerations associated with driving heavy vehicles.
Motorcycle Driving License Course: This course is designed for those who wish to ride motorcycles. It covers everything from basic motorcycle handling to advanced riding techniques, ensuring that students are well-equipped to ride safely on the roads.
Each course is designed to provide students with the skills and knowledge they need to become safe, confident drivers. With its comprehensive curriculum and highly qualified instructors, Model Driving School is a top choice for driving education in Madinah.
To pass the theory computer test in Saudi Arabia, we highly recommend that you download our official app and practice for free.
Training Programs at Model Driving School
Model Driving School offers a comprehensive suite of training programs designed to equip students with the knowledge and skills necessary to become safe and confident drivers. The training programs are structured to provide a blend of theoretical knowledge, simulated experiences, and practical skills. Here's a detailed look at each program:
Theoretical Training
The theoretical training program is based on a curriculum approved by the General Traffic Department. It is delivered by highly qualified trainers who provide in-depth knowledge about the vehicle, basic driving skills, and traffic regulations. The program also covers how to deal with and confront risks on the road. This foundational knowledge is crucial for understanding the principles of safe driving and prepares students for the practical aspects of driving.
Simulation Training
The simulation training program offers virtual driving experiences using the latest technical devices. This program provides a realistic driving experience, allowing students to navigate through various geographical scenarios and weather conditions. This immersive training method is particularly beneficial for new drivers as it helps to break the barrier of fear associated with driving. The program offers interactive instructions and provides a report on the student's driving level and any errors committed during the simulated driving experience.
Practical Training
The practical training program introduces students to the vehicle, both internally and externally. It enables students to apply the basic skills they've learned in a real-world setting under the direct supervision of highly trained instructors. The program focuses on balanced and safe driving, ensuring that students are comfortable behind the wheel and are capable of applying their knowledge and skills in real-world driving scenarios.
Model Driving School Fee
| Training Program | Duration | Fee (in Riyals) |
| --- | --- | --- |
| Determining Level – 6 Hours | 6 Hours | 690 |
| Average Proficiency Course | 15 Hours | 1466.25 |
| Beginner's Course | 30 Hours | 2760 |
These are the courses offered by Model Driving School for which the fees are specified. For more information about other courses and their fees, it's recommended to contact Model Driving School directly.
Working Hours of Model Driving School
Model Driving School operates six days a week, providing ample opportunities for students to schedule their driving lessons.
| Day | Working Hours |
| --- | --- |
| Monday | 7 am – 11 pm |
| Tuesday | 7 am – 11 pm |
| Wednesday | 7 am – 11 pm |
| Thursday | 7 am – 11 pm |
| Friday | Closed |
| Saturday | 7 am – 11 pm |
| Sunday | 7 am – 11 pm |
Please note that the school is closed on Fridays. It's always a good idea to confirm these hours directly with the school as they can change due to holidays or special events.
Model Driving School Reviews
Model Driving School has received a variety of reviews from its students, with an overall rating of 3.0 stars out of 5, based on 1,193 reviews. Here are some of the reviews from students:
Maryam Azam wrote, "A very good place to learn how to drive. Highly recommend Samar Aluqby, she trains you to be excellent in your driving skills. Her assistance took away my fear and gave me a lot of confidence to drive."
Muhammad Uzair, a Local Guide, mentioned that the procedure is lengthy and you will get an appointment approximately after 2 weeks if you are allowed to enter.
Syed Shams Tabraiz expressed disappointment, stating, "We had an appointment from the Absher system, came here found out that it was closed! Funny how unprofessionalism has prevailed."
Good Ness provided some advice for English speakers and mentioned that some information might be outdated as they completed in January.
Zahiiir Elamin shared his experience of renewing his driving license, stating that the receptionist told him the first appointments were after 40 days.
These reviews provide a glimpse into the experiences of students at Model Driving School. However, it's important to note that experiences can vary, and it's always a good idea to read more reviews and do thorough research before making a decision.
Contact Information
Getting in touch with Model Driving School is easy. Whether you have a question, need assistance, or want to provide feedback, the school's dedicated team is ready to help. Here's how you can reach them: