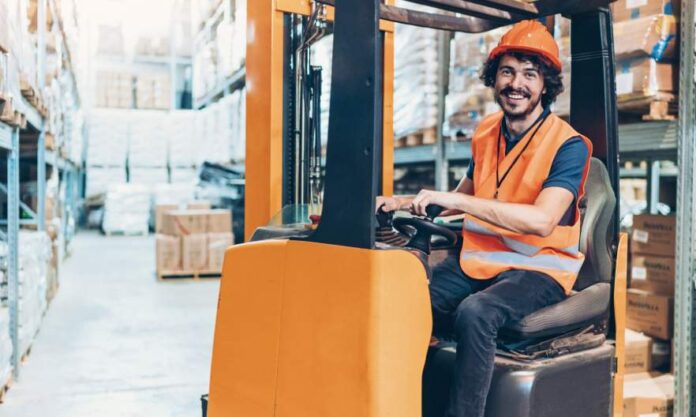 In Saudi Arabia, Forklift drivers must obtain a Forklift Driving License before they can legally use it at their job. The Forklift driving license is an essential prerequisite for Forklift operators looking for employment. This guide will help you get Forklift Driving License in Saudi Arabia.
The Forklift operating course introduces several Forklift types and teaches safe Forklift operating techniques in different work environments and weather conditions. With the Forklift Driving License, Forklift operators can confidently operate Forklifts in their workplace with the knowledge of industry safety standards.
Forklift Driving License in Saudi Arabia
The Kingdom of Saudi Arabia has six types of driving licenses, and Forklift falls under the heavy vehicle driving license category. Applicants need to meet specific criteria to be eligible to apply for a heavy driving license, including the Forklift.
The Forklift Driving License in Saudi Arabia is an essential requirement for anyone operating a forklift in the Kingdom. Forklift operators are expected to abide by all safety requirements and regulations that apply to their workplace and ensure they receive the necessary training and possess a valid Forklift Driving License. 
Requirement of Forklift License in KSA
The minimum age requirement is 21 years old, and the applicant must be employed in an occupation that necessitates possession of a Public Driving License.
At the time of application, applicants must also provide documentation that includes a valid medical check-up certificate and a copy of their passport or national ID card. The applicant will be required to complete an approved driving test before being issued the Forklift Driving License in KSA.
Documents Required for Forklift Licence
Fill in the specified form completely.
Provide four photos, size (4X6) cm.
Provide an identification letter from an official authority.
Pay the required fees.
Provide a file to save documents.
Provide an identification letter from the sponsor (Non-Saudis.)
The applicant's occupation must entitle driving heavy vehicles.
Forklift Driving License Procedure
This is how you have to apply for a forklift licence in Saudi Arabia. After obtaining the necessary documents, the next step is to go to one of the driving schools in your city. For example, Dallah School is a great option. You can get the application form from a shop near the driving school. This can cost up to 15 Riyal – or download it online and fill it out yourself.
Once your application is ready, make sure to include all the necessary documents in the file. It's best to do this yourself rather than allowing the school to do it for you, as it will be easier for them to process your application if everything is ready and organized beforehand.
After submitting your application and waiting for the required processing time, you will be ready to take your Forklift Driving License exam. The exam consists of theory and practical tests, and upon successful completion, you will receive a Forklift Driving License in Saudi Arabia.
Validity of Forklift License
Once issued, Forklift Driving License in KSA must be renewed every five years, along with payment of renewal fees. The license can also be suspended or revoked if the driver commits any traffic violations or fails to meet certain conditions.
Forklift License Fee
| Type | Annual Fees | Annual Renewal | Lost and Replacement |
| --- | --- | --- | --- |
| Public Work License | SR 100 | SR 100 | SR 100 |
| Public Vehicle Registration | SR 400 | SR 400 | SR 100 |
Do We Require a License to Drive Forklifts in Saudi Arabia?
Yes, in Saudi Arabia, you must obtain a specialized license to operate any Forklift. The basic requirements for obtaining such a license include being at least 21 years old and passing a written test covering safety regulations and proper forklift operation. You may also need to pass a practical exam demonstrating your ability to operate the vehicle safely. Depending on the employer, additional qualifications may be required before getting your license.
Different Types of Forklift Operator Jobs in Saudi Arabia
Learning how to operate a forklift is a beneficial job skill that provides students many job opportunities in the manufacturing, logistics, and warehousing industries. Forklift operators can find work in factories, warehouses, storage yards, airports, seaports, and other similar environments. Forklifts are invaluable tools in many industries, and learning how to operate them safely is essential.
It is important to remember that Forklift Driving License in KSA is valid only within Saudi Arabia and not in any other country. Therefore, applicants should check the relevant regulations before applying for a Forklift driving license.